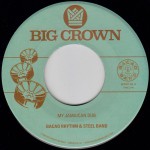 My Jamaican Dub b/w The Healer
Bacao Rhythm & Steel Band is back with another crushing two-sider that is guaranteed to set dancefloors on fire and get heads nodding around the globe. The mysterious steel pan outfit hailing from Hamburg, Germany has become a staple in DJ sets from Europe to Japan, from the US to Brazil, and anywhere else these tunes have found their way to speakers. They have released a slew of classic 7"s and two critically acclaimed full length albums. With that they have set a high bar for themselves, one clearly they intend on pushing higher with this new offering.
Side A is BRSB's take on Grace Jones' nightclub classic "My Jamaican Guy". They take the tune to a new height from the first beat, laying down an infectious groove that will get people out of their seats immediately. Heavy duty drums and bass shake the speakers through the intro then the pans reveal what they are covering as they play the instantly recognizable top line of the original. Rhythm guitar, heavily echoed percussion hits, and the different pan sets all combine to make this yet another instant classic from Bacao.