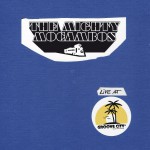 Live At Groove City

After having completed the first run of shows for their recent album "2066" through UK, France and Germany, the Mighty Mocambos did an intimate performance at world-renowned Groove City Record Store in their hometown Hamburg.
Not content with just playing stripped down versions of existing material, the band wanted to step up a notch from the "tiny desk" type concert idea and decided to record unreleased tunes for a vinyl single capturing the live energy and crowd atmosphere with analog studio techniques. After having warmed up with a couple of songs from "2066", a cheerful crowd in the packed shop witnessed the band tracking magic takes of unheard songs directly to tape.
"St. Pauli Second Line", an instrumental live favourite with simple but irresistant swamp funk ostinatoes turned into a frenetic call and response chant workout midway of the song. Singer Nichola Richards' tune "Keep It Movin'", a mainstay of the band's live repertoire for years, was cut with great energy, finally finding its way onto wax. "Something's Missing" is a brand new tune with a raw sister funk vibe – written and arranged for the occasion, rehearsed once and performed live for the first time in the version you hear on this record.
While many live recordings a are mere mix of crowd noise and neglectable renditions of well-worn tunes that are unusable for DJs and hardly appealing to the dedicated listener, THE MIGHTY MOCAMBOS – Live At Groove City au contraire is a treat for turntableists and a testimony of the spark that a well-attuned live band can light up, combining the vibes of a concert with the no-nonsense analog sound of their well-loved studio recordings.