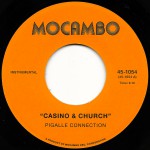 Casino & Church b/w Vendetta James
Led by French B3 Hammond maestro Guillaume Metenier and featuring an all-star lineup of musicians from the extended Mocambo fam, Pigalle Connection connect the dots between instrumental funk, b-boy breaks and cinematic soundscapes. After their celebrated and battle proven 45 "Paris Breakdown", this fantasy funk supergroup is finally back with a new double delight on 7 inch wax. "Casino & Church" / "Vendetta James" is a nod to Peter Thomas and Ennio Morricone, two massively influential score composers who both sadly passed away in 2020.
A-side "Casino & Church" is a blistering blend of afro-boogie, breakbeat funk, blaxploitation and eurocinema, led by hypnotic percussion and an infectious guitar.
Flip to the B-side for "Vendetta James", where Mediterranean funk meets Italo Western and b-boy breaks in a sequence of hazy atmospheres and alluring moods.
Recorded live to 8-track tape with vintage equipment and instruments, both sides of Pigalle Connection's new 45 showcase the band's unique sound and deep appreciation for great film scores and heavy funk.