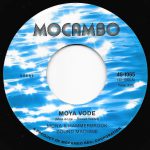 Moya Vode b/w instrumental

Stunning outernational funk for the psych breaks dancefloor featuring the mesmerizing vocals of Ukrainian jazz singer Mona. Sung in her mother language, "Moya Vode" is about the "ancient ritual to put a spell on water and remove all negativity through its power".
Mona and MC Fame, a well-known Ukrainian hiphop producer and activist, both left their hometown Kyiv last year and found a new home in the Hammerbrook district of Hamburg, Germany, where they quickly connected with the lively funk scene of the city. Together with the Mocambo crew they set off to work out some magic by combining universal funk grooves and Ukrainian folklore.
Mona's mystical soulful vocals are backed by the "Hammerbrook Sound Machine", a group featuring members of Bacao Rhythm & Steel Band and the Mighty Mocambos, with instruments like the Tsymbaly or Drymba added on top. The "folk-funk" continues more electronically on the instrumental flip side when MC Fame takes over the lead on Moog synthesizer. Dive into this spell!