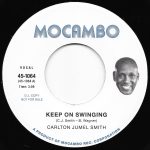 Keep On Swinging b/w Hope

Original soul man Carlton Jumel Smith and the infamous Mocambo crew hook up for a double sider 45 of the highest order. The A-side "Keep On Swinging" is a slab of tough street funk with real-life storytelling about persistence and not giving up, hitting heavy on the one. Carlton's message of positivity and encouragement continues on the flip side, "Hope", an uptempo sweet soul hitter with a strong gospel vibe over urgent breakbeats.
Recorded on 8-track tape featuring members of the Mighty Mocambos and Bacao Rhythm & Steel Band, this single is equally at home at breakdance battles as it is at soul allnighters, and whether you're in a gangster limousine or in church – turn it up! "Long live soul music".