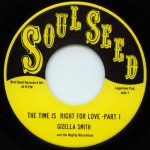 The Time Is Right For Love b/w Part 2 Instrumental

Another smash hit from Gizelle Smith. Soul Seed is the name of a rare soul/raw funk club night in Turku, Finland.
To celebrate their anniversary, they decided to release a new, female version of one of their all-time favourites.
Mocambo gladly accepted the offer and created an upbeat version of the slow & sultry B. Reed tune.
Originally only a giveaway for Soul Seed club members, the 45 will be available in selected shops in very limited quantities. Features a sweet instrumental with flute taking over the lead vocals on the flip.