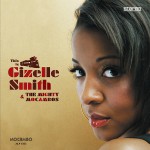 THIS IS GIZELLE SMITH & THE MIGHTY MOCAMBOS
Release date: 31.8.2009 SOLD OUT!
available on CD (Légère Recordings, Soulbeats Records France, CCRE Japan)
"Strong album – packs a serious punch"
Craig Charles Funk and Soul Show, BBC 6 Music
"A breath of fresh air"
Keb Darge
"Really amazing stuff, full of killers"
Nick / Record Kicks
"Definitely recommended"
Peter Wermelinger, Funky & Groovy Music Records Lexicon
"What a fantastic album – this is proper funk"
Tobias Kirmayer, Tramp Records
Ever since their first collaboration on the "Mocambo Funk Forty Fives" compilation, things have gained momentum for the "Golden Girl of Funk" and the much respected Hamburg-based label and live band. Their first single "Working Woman" became an overnight smash and a prime-time club favourite of funk & soul DJs from all over the world. Initially released on the Finnish private press label Old Capital, producer legend and Grammy nominee Kenny Dope (Masters at Work, Bucketheads) picked up and remixed the song for his own label Kay Dee Records.
Gizelle Smith & Mocambo now step up with a full-length album of bonafide sister funk.
In the days of digital recording and Pro Tools editing, they show true exception to modern techniques and create their highly regarded, unique and raw soul sound, by making use of simple dynamic microphones and reel-to-reel tape machines.
In a genre which is often littered with overused clichés of the past, the charismatic Gizelle Smith adds a lot of her own flavour rather than slavishly copying icons of bygone decades. The result is a refreshing alternative to post-millenium plastic pop without being a mere retro rip-off.
From the heavy and determined "Gonna Get You" to vulnerable, gospel-tinged laments such as "Coffee High", the album is just as deeply rooted in the music from the golden era of soul as it is a modern masterpiece in its own right.
Blazing horns, soulful guitars, driving drums and basslines combined with Gizelle's gripping and powerful voice all weave together to create a long player that is varied and coherent at the same time.