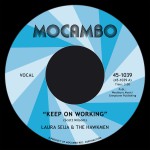 Keep On Working b/w Don't Judge A Book By Its Cover
Laura Seija & The Hawkmen are a hot new British rockabilly/R&B outfit, lead by Scott Milsom (known for his work with The Hawk, Coffin Nails, Big Boss Man) who deliver a fresh take on classic hot-rod'n'soul music. The song and its accompanying video, shot in a classy 1950's burlesque car-wash style have received praises from all over and been on featured on The Craig Charles Funk & Soul Show on BBC. With a full-length and tour on the horizon, Mocambo Records is delighted to serve up the best cuts on vinyl.
Laura Seija & The Hawkmen 'Keep On Working' – Keep On Working EP (Greystone Records) from Greystone Records on Vimeo.