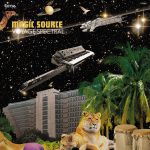 Voyage Spectral

Magic Source invites you to a journey to the obscure side of disco music. Led by producer & notorious tape operator Björn Wagner (of Mighty Mocambos, Bacao Rhythm & Steel Band and Mocambo Records), the group follows up on their rootsy cosmic debut LP Earthrising and last year's EP Riviera Drive, whose stunning flute jazz cover of "Genius of Love" is also featured on this longplayer.
Further exploring the more unusual facets of disco in its otherworldly and international stylings, Voyage Spectral travels through a wide musical scope, ranging from "lost" tropical grooves, Mediterranean funk, outernational boogie, to cosmic sci-fi soundtracks. All 100% organic – created by real musicians with real vintage instruments, captured on 16-track analog tape.
An all-star cast of musicians invites you to a fantasy trip where angelic voices blend with spaced-out synths, ethnic string instruments interplay with sharp horn lines while the rhythm section is holding down a polyrhythmic puzzle of guitars, clavinets, B-3, drums and percussions.