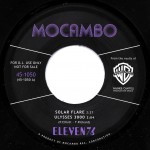 Solar Flame / Ulysses 3000 b/w Star Equalizer / Cosmogony

Original library synth funk sci-fi soundtracks. This promo EP from the vaults of Warner Chappell's production music archive offers four more tracks from Eleven76's mystique Space Voyage recordings. Originally intended for film synchronisation usage as part of Warner's music library, their unique mélange of analog synthesizers, breakheavy drumming, trippy fx and euphoric-melancholic instrumental fantasies has gained them a cult following among witty beatmakers, DJs, cratediggers, tape recording freaks and space age afficionados.
Produced by Paul Elliott, director of The Library Music Film, this promotional vinyl 45 was made to support the library album SPACE VOYAGE and to make the music available outside of film usage. Limited quantities available as most of the pressing is used as giveaway for clients in film, TV and advertising.