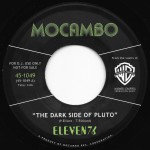 The Dark Side Of Pluto b/w Rocket Arp

Spaced-out library funk from the vaults of Warner/Chappell Production Music. Eleven76 create a time-travelling soundtrack to orbital adventures with heavy drumbreaks and analog synthesizers, perfect for intergalatic breakdance battles and cosmic dancefloors alike.
Exclusive promotional vinyl 45 to support the library album SPACE VOYAGE. Limited quantities available as most of the pressing is used as a giveaway for clients in film, TV and advertising.