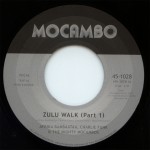 Zulu Walk b/w Zulu Walk Part 2

You would not have guessed this: The Mighty Mocambos team up with hip-hop legends Afrika Bambaataa and Charlie Funk for the heaviest collabo of 2011. Mocambo's raw organic funk takes it "back to the roots where we started out" (as featured rapper King Kamonzi rightfully says) and along the way, leads funk into the future. The "Zulu Walk" shows the Mighty Mocambos as raw as they get and the Godfathers of Hip-Hop like you have never heard them before. Is this old school? Is this new school? It's universal and it's true. It's the Mighty Mocambos and the mighty Zulu Nation together on one 45.
Flip side contains extended instrumental. Limited edition. Silver label and red sleeve.