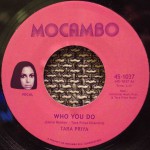 Who You Do b/w Rollin'
Armed with a voice "you just need to hear" (BBC London) and an irresistible blend of snaps, claps, and golden trumpet peals, Tara Priya combines vintage soul, poetic lyrics, and a dash of pop to provide relief from today's Auto-Tune avalanche. Sweet and sour, lovely and lovelorn, her story is as distinctive as her sound. "Sass'n'soul, little bitta Go-Go", says the San-Francisco-native about her music.
Things moved fast ever since Tara's first album on Japanese P-Vine Records was released in 2012 and made #2 on itunes charts. Tara moved to London recently and recorded new material with award-winning producer Steve Booker (responsible for Duffy's worldwide smash hit 'Mercy' and well-known for his work with John Newman, Lisa Marie Presley, Jamie Cullom, among others). "Who You Do" not only shows expertise in production that we haven't heard a while, the post-break-up song also gives way for Tara's distinctive voice and attitude. Both "Who You Do" and the second A-side "Rollin' (off her first album) now see their first, well-deserved limited edition vinyl release. The video for "Who You Do" has already passed the million mark on youtube, so get your copy quick. Ltd. edition.
"Fantastic, timeless" – City Beat
"The epitome of 'sassy' … Tara was a hit down at this year's SWSW- and with tunes as good as this, there's no wonder. 'Who You Do' is one of the most empowered post-break up songs we've heard of late and we've not got it out of our heads. With over 800,000 hits racked up on YouTube it would seem we're not the only ones to dig it…" – Huffington Post
"Tara Priya rises above with this refreshing soulful sound. The music reflects the retro Motown sounds of the 60?s, while still being current and relative. Her powerful voice and catchy tunes will leave you wanting more." – MostlyJunkFood.com
"Punchy, sass-laden retro soul" – Time Out Tokyo
"A voice you need to hear!" – BBC London
"Summer pop hit!" – Time Magazine
"While Tara has attracted much attention as a talent following in the footsteps of Amy Winehouse, Adele, and Duffy, she's an extremely catchy songwriter with a smoky voice–full of soul without being overly bright–that's all her own. Her debut release has an exquisite sweetness and is a mix of good 'ole vintage soul and modern pop" – MSN Entertainment (Japan)
"This lady has soul! Tara Priya describes this track as 'retro' – which kind of explains its familiar sound – yet it still holds its own as regards to being unique." – BBC 6Music