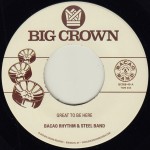 Great To Be Here b/w All 4 Tha Ca$h

By popular demand, Bacao Rhythm & Steel Band is back with another must have of a two sider. Two tracks finding their way to vinyl for the first time that were cut during The Serpents Mouth sessions but only made it to the cd and digital release. A lot of people wrote us asking for it, and here it is, a 7 inch release that lives at the intersection of Funk, Soul, and Hip Hop.
The A side is Bacao's crushing cover of the Jackson 5's B-Boy classic "Great To Be Here". A tune that a lot of people proba- bly thought had steel pans on the original version, a miscon- ception that lead to BRSB choosing it for their inimitable treatment. They open the tune with a chunky open drum break that gives way to the steel pan work banging out the infec- tious and instantly recognizable guitar lines from the J5's version.
The B side finds Bacao diggin deeper into the hip hop crates again and coming up with a monster of a Gang Starr track to cover. Taking on their underground street anthem they cut for their Full Clip compilation, "All 4 Tha Ca$h". BRSB tease the tune in with the two top notes of the riff for the first 8 bars catching listeners ears and giving the DJs a record to work with. When the whole riff drops and they give away what the tune is they are covering awww shits & ooooooohs are sure to be heard out in the crowd.